Ideal for wrapping standard sized objects, especially skids or pallets, our stock or custom sized shrink bags or tube offer a professional look and a protective cover. Call us for a quote in the US at 800-847-5290 or worldwide at 610-566-5290
Pallet Shrink Bags & Covers - Products Below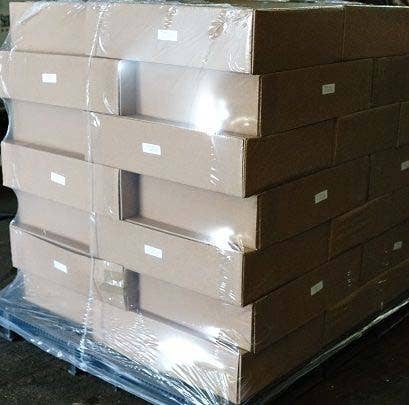 We carry a full line of shrink wrap bags and covers in common sizes. Our heat shrink bags work perfectly for shrink wrapping pallets.

If you can't find the right Pallet Shrink Bags or Covers, you can request for a customized order! See our Custom Pallet Shrink Covers and Bags page Here!

If you don't have a heat tool, you can pick one out for yourself here, or you can Rent a Heat Tool from Mr. Shrinkwrap.

Mr. Shrinkwrap is a leading distributor of protective products, shrink wrap films and installation supplies with a dedicated team available to take your order at any time of day. We have several experienced shrink wrap installation technicians on staff to help and support you on various aspects of any shrink wrap project. If you would like to place an order over the phone or have questions for us, give Mr. Shrinkwrap a call at 800-847-5290.