Ripack 2200 heat gun for shrink wrap and more.
Ripack 2200 Heat Tool - Products Below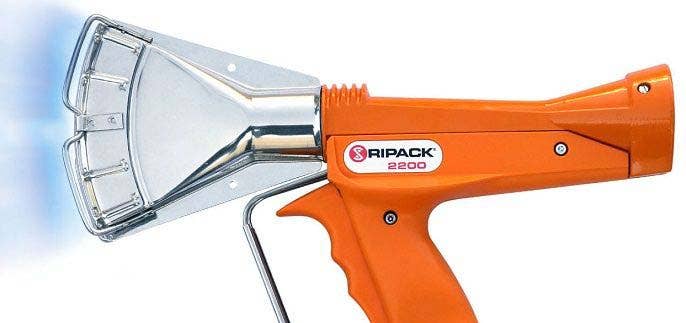 With 72 kW of available power, the RIPACK® 2200 is one of the most powerful heat tools on the market. The RIPACK® 2200 also retains all the key features that made its predecessors so popular: patented cold nozzle technology, robust construction and quality manufacturing. The RIPACK® 2200 heat gun can shrink an average-sized wrapped pallet in just one and a half minutes. The 72 kW of power creates a major coverage area, which saves you time. A wide range of settings starting at 40 kW enables shrinking of all film types, from thin millage to thick. The more ergonomic RIPACK® 2200 is lighter, well-balanced and has an easy-to-grip handle. The RIPACK® 2200's nozzle can be pivoted, even while in operation, for ease of use and precise results. The RIPACK® 2200, with its patented, almost instantaneous start up, is a pleasure to use. With its patented extension wand system, your RIPACK® 2200 can increase its potential range in just a few seconds for even greater effect. Already renowned for its solid construction, the RIPACK® 2200 heat gun kit has gone even further by protecting every part that might be adversely affected by impact, heat or breakage.

The RIPACK® 2200 heat gun kit is:
- One of the most powerful heat tools on the market, with 40 to 72kW adjustable range.
- Patented stainless combustion nozzle that can pivot while in use and stays cold even with prolonged use.
- Lightweight and well balanced
- Easy and effective to use with any one of the 5 one-click extension wands available from 0.50 to 2 meters.
Be sure to look at Mr. Shrinkwrap's Shrink Wrap Installation Supplies page for Crosswoven Strap, Tape, Vents, Zipper Doors, or other items you might need for your project.