Bundling Films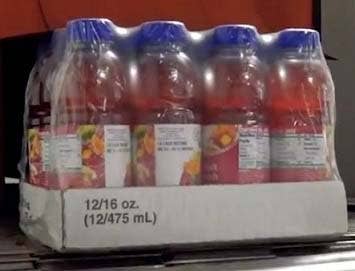 Bundling film is for shrink bundling (aka multi-packing), making one bundle out of multiple items or products. Shrink bundling film is designed for use with a shrink bundler and shrink tunnel for high-speed packaging applications. It is most frequently used for the distribution of beverages, household products, pet foods, dairy items, building materials, carpets, firewood, and more. The low-density polyethylene film (LDPE - made from virgin resin) is favored when puncture resistance and toughness are critical, as it provides a reduced risk of loose products that could create messes, damage, and loss.

When applied correctly, shrink bundling is both efficient and cost effective, offering extra protection in transit and easy handling during distribution. It also requires less space than products transported in corrugated packaging. All shrink bundling rolls are made to fit the shrink bundling machinery and recommended for two-roll systems where the bullseyes (the open round holes left after the package has been conveyed through a heated shrink tunnel) are on the sides of the product.

Additional common applications for Bundling films include securement of firewood and other items where puncture resistance and toughness are important. Our high performance film is one of the best all-purpose films on the market. This film is recommended for two roll systems, where the bullseyes are typically on the sides of the product. The width of roll size used will affect the final size of the bullseyes on the product.

If you can't find the Bundling Film you need, submit a request for customized Bundling Film! See our Custom Bundling Film page Here!