Express Hornet Heat Gun - Products Below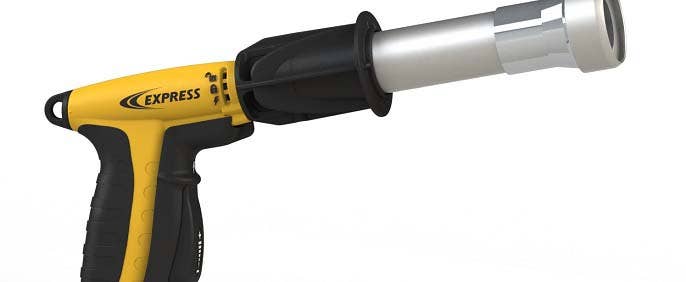 Features
Rapid Implementation
A connection to the pipe in one click, thanks to the quick connector.
A flame quickly provided through the piezo ignition synchronized obtained by simply pressing the trigger.
Interchangeable nozzles without tools.
Easy self-maintenance - change the trigger and piezo ignitor without tools.
Power and Precision
High performance thanks to its targeted flame, HORNET gun has a range of burners ranging from 30 to 150 kW.

Comfort
Very light (about 500 g) reduce the risk of musculoskeletal disorders (MSDs).
Moderate sound power ( A gun ready, and running in less than a minute, packed in suitcase.
A power management of the trigger, touch.
A trigger / piezo parts, included in the pack.

Security
A synchronized ignition at low flow.
A marking 3 positions: change lance storage, ignition.
A handful safety: the gun goes off when the operator releases the handle.
A safety valve in case of breakage of the pipe.
A professional quality rubber hose UL listed.
A gun comes with gloves designed specifically for optimum heat resistance.
Be sure to look at Mr. Shrinkwrap's Shrink Wrap Installation Supplies page for Crosswoven Strap, Tape, Vents, Zipper Doors, or other items you might need for your project.
Mr. Shrinkwrap is a leading distributor of protective products, shrink wrap films and installation supplies with a dedicated team available to take your order at any time of day. We have several experienced shrink wrap installation technicians on staff to help and support you on various aspects of any shrink wrap project. If you would like to place an order over the phone or have questions for us, give Mr. Shrinkwrap a call at 800-847-5290.