Full Pallet of MVP Centerfold Polyolefin Heat Shrink Film Select Your Size 8-36" 50-100ga Syfan Sytec
***Up to 2 weeks lead time.***
This is a Full Pallet of film.

This is Centerfold film.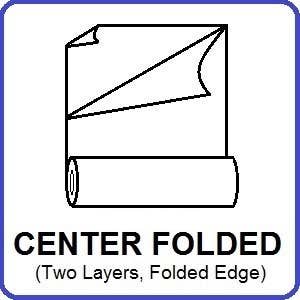 Syfan SYTEC® MVP is a soft, cross-linked shrink film for a wide range of packaging applications. This low shrink force film is especially suitable where low shrinkage temperatures and high shrinkage speeds are required.

Center Fold Gauge & Roll Lengths
45 Gauge - 5,830 Feet
60 Gauge - 4,375 Feet
75 Gauge - 3,500 Feet
100 Gauge - 2,620 Feet
125 Gauge - 2,100 Feet
150 Gauge - 1,750 Feet
200 Gauge - 1,310 Feet
Special Features
User Friendly

Conforms to any product shape
Shrink & Seal Properties
Quick, soft shrink at low temperatures

Low shrink force

Strong seals
Food Contact
Syfan Shrink Films comply with the requirements and regulations which state that materials may be used in food contact applications, as described in the code of Federal Regulations of the U.S. Food and Drug Administration Title 21 para. 177.1520 and in the European Regulations 2015/174, 10/2011, 1935, 2004; directive 2002/72/EC and admendments 2004/1/EC, 3004/19/EC, 2005/79, EC, and DD ENV 1186.
Safety & Environment
Syfan Shrink Films contain no CFC's nor any residues of heavy metals. The gas generated during sealing of Syfan shrink films is comprised of hydrocarbon derivatives of the pure raw material and contains no harmful substances, irritants, or chroline derivatives.
Storage and Testing
Syfan Shrink Films should be stored in a cool, dry environment away from direct sunlight. Maximum storage temperature: 25°C/77°F. The table below is based on test data believed to be reliable. Since it is not possible to anticipate the different and varying conditions under which Syfan films may be used, purchasers are advised to carry out their own tests to determine the suitability of Syfan products for their specific purposes.
Property
Unit
Method
Nominal Values

Density

g/cm

³

ASTM D-1505

0.918

Haze

%

ASTM D-1003

4.5

Gloss 45°

%

ASTM D-2459

87

Tensiles Strength

N/mm

²

ASTM D-882

MD 90 TD 90

Elongation

%

ASTM D-882

MD 130 TD 110

Shrinkage at 120°C Oil Bath 5 Sec

%

Syfan Method

MD 78 TD 75

Tearing Resistance

g/25 µ

Elmendorf

MD 35 TD 25

Coefficient of Friction

Film/Film

<0.25

MVTR (15 mic)

g/m

²

/24hr@90%RH37°C

ASTM E-96

23

OTR (15 mic)

cc/m

²

/24hr/1atm@25°C

ASTM D3985-05(2010)e1

15000
Some competitor films that are comparable to Sytec MVP are Cryovac D940, Cryovac CT-500 Series, Clysar LE, Opti 210, Bollore BRX, and Zhongda Z101.
Downloadable PDFs:
Sytec MVP Film Specs
Competitor Films Comparable to Sytec
Mr. Shrinkwrap is a leading distributor of protective products, shrink wrap films and installation supplies with a dedicated team available to take your order at any time of day. We have several experienced shrink wrap installation technicians on staff to help and support you on various aspects of any shrink wrap project. If you would like to place an order over the phone or have questions for us, give Mr. Shrinkwrap a call at 800-847-5290.