Full Pallet of 701D Centerfold Polyolefin Heat Shrink Film Select Your Size 8-36" 125-200ga Syfan Sytec
***Up to 2 weeks lead time.***
This is a Full Pallet of film.


This is a Single Wound film.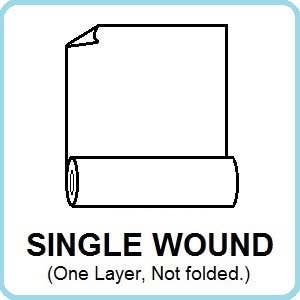 The need to supply sustainable, cost-efficient and abuse-resistant packaging to our customers has motivated Syfan to develop Sytec 701D. This heavy duty shrink film offers both the manufacturer and end user clear advantages. Syfan's 701D is the choice of Ikea for packaging of some of their most popular product lines in Europe and the United States.

Single Wound Gauge & Roll Lengths
125 Gauge - 4,200 Feet
150 Gauge - 3,500 Feet
200 Gauge - 2,620 Feet
The Cost Advantage
More cost effective than corrugated cartons

One-step package that requires very few packaging aids (tapes, inner bags, bands, etc.)

Reduces volume and weight of packaged goods, decreasing the cost transport and warehousing
The Operational Advantage
Lends itself easily to automation of the packaging process

Minimizes stocking space of packaging material and of packaged goods

Simplifies stock of packaging materials - one size for many items means less items needed in stock.
The Shelf Advantage
Allows clear view of the product at sale point

Allows the customer to make sure the purchased kit is complete

The result is fewer returns and fewer disappointed customers!
Food Contact
Syfan Shrink Films comply with the requirements and regulations which state that materials may be used in food contact applications, as described in the code of Federal Regulations of the U.S. Food and Drug Administration Title 21 para. 177.1520 and in the European Regulations 2015/174, 10/2011, 1935, 2004; directive 2002/72/EC and admendments 2004/1/EC, 3004/19/EC, 2005/79, EC, and DD ENV 1186.
Safety & Environment
Syfan Shrink Films contain no CFC's nor any residues of heavy metals. The gas generated during sealing of Syfan shrink films is comprised of hydrocarbon derivatives of the pure raw material and contains no harmful substances, irritants, or chroline derivatives.
Storage and Testing
Syfan Shrink Films should be stored in a cool, dry environment away from direct sunlight. Maximum storage temperature: 25°C/77°F. The table below is based on test data believed to be reliable. Since it is not possible to anticipate the different and varying conditions under which Syfan films may be used, purchasers are advised to carry out their own tests to determine the suitability of Syfan products for their specific purposes.
Property
Method
Unit
125ga
150ga
200ga

Haze

ASTM D-1003

%

3.6

3.8

4.2

Gloss 45°

ASTM D-2459

%

88

88

87

Coefficient of Friction

ASTM D-1894

<0.2

<0.2

<0.2

Shrinkage

120°C Oil Bath 5 sec

%

MD76
TD 75
MD 76
TD 75
MD 72
TD 72

Tear Resistance MD/TD

Elmendorf

g/25 µ

MD35
TD 30
MD 45
TD 35
MD 45
TD 40

Ultimate Tensile Stress MD/TD

ASTM D-882

N/mm²

MD100
TD 100
MD 105
TD 100
MD 100
TD 100

Elongation MD/TD

ASTM D-882

%

MD160
TD 140
MD 170
TD 150
MD 180
TD 160

MVTR

ASTM E-96

gr/m²/24hr@90%RH37°C

10.5

9

7

OTR

ASTM E-3985

cc/m²/24hr/1atm@25°C

3600

3000

1700

CO

₂

Gas Chromatograph

cc/m²/24hr/1atm@25°C

14600

12300

9300

Some competitor films that are comparable to Sytec 701D are Cryovac D955, Cryovac D125, Cryovac D150, Cryovac CorrTuff, Cryovac CT-307, Cryovac CT-308, Clysar HPG 125, Clysar HPG 150, and Clysar ShrinkBox.

Downloadable PDFs:
Sytec 701D Film Specs
Competitor Films Comparable to Sytec
Mr. Shrinkwrap is a leading distributor of protective products, shrink wrap films and installation supplies with a dedicated team available to take your order at any time of day. We have several experienced shrink wrap installation technicians on staff to help and support you on various aspects of any shrink wrap project. If you would like to place an order over the phone or have questions for us, give Mr. Shrinkwrap a call at 800-847-5290.